Kit
The Haries produce a fine range of kit for our members, made to order, for very reasonable prices.
The provision of our 2014/15 kit, including hoodies, tracksuit bottoms and vests, is organised by our Kit Sec Mook. She has already sent out an email regarding kit orders this year - you might still be able to buy kit from her throughout the year, but we can't guarantee we'll have what you need in your size! Get in contact with her to find out exactly what we have available.
A quick ode to the importance of the colour green
If you haven't noticed by now from the colour scheme of this website and our committee's favourite colours (more about them here), our club's colour is GREEN. It features in all our kit, flags and chants, and identifies us as the mighty Haries to other clubs. Green is simply the best colour there is, and we highly encourage our members to wear as much of it as possible in day-to-day life, but especially at races. The most important time for wearing green is on our trip to the Isle of Man, when it is practically a sin not to. We wouldn't want you being confused for a Manchester (Orange), Leeds (Yellow), or Glasgow (Black and Gold) student now, would we? The Harie wearing the least amount of green (at the discretion of our Kit Sec) is usually punished in some way. In 2014 this involved drinking all your drinks out of a green tea pot, so be prepared; be green. Getting your hands on some of the kit modelled below would be a good start!
Vests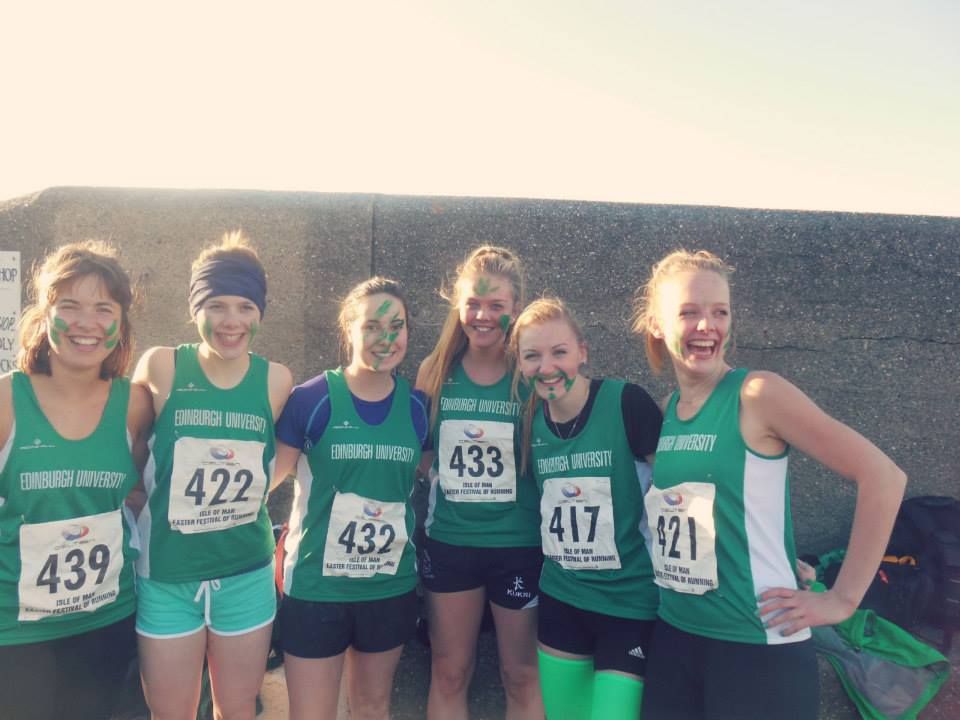 A few of our ladies sporting our marvelous Ronhill running vests
We ask club members to race wearing a green and white club vest. Our kit secretary will bring a supply of vests to major events, but we strongly recommend that you buy your own, for just £15.00. This ensures that you have a vest that fits, is not damp with someone else's sweat, and that you will not have to take off before you've got your breath back to pass to the next runner. Vests come in male and female sizes.
Ties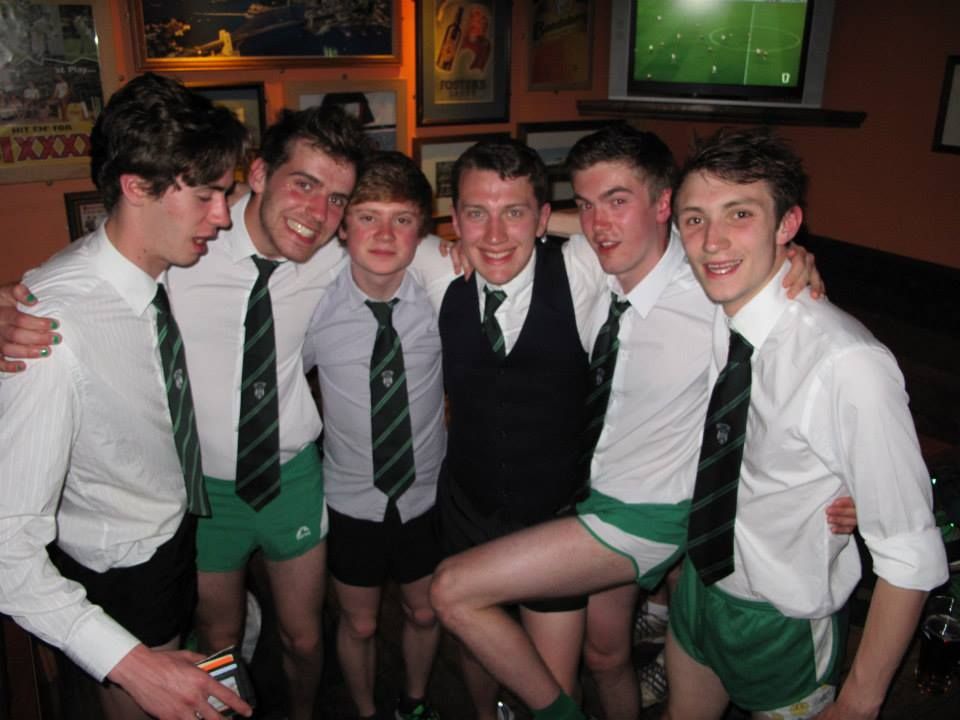 Our Club Ties will add a touch of class to any outfit you pair them with
These are now limited edition, as stocks are very low and we are unsure when more will become available. More info coming soon!
Even at Uni, you will sometimes have to wear a tie (yes, ladies too, there's always the school disco!). We regret that it's really time to do away with the old school tie, or any others you might possess, because we have something MUCH BETTER: incredibly fancy Club Ties with the original H&H logo are still up for grabs. To see how good they look or to order one, send the Kit secretary an email.
We dress up for some of our best socials, so you're guaranteed chances to show off to the rest of us!
Kukri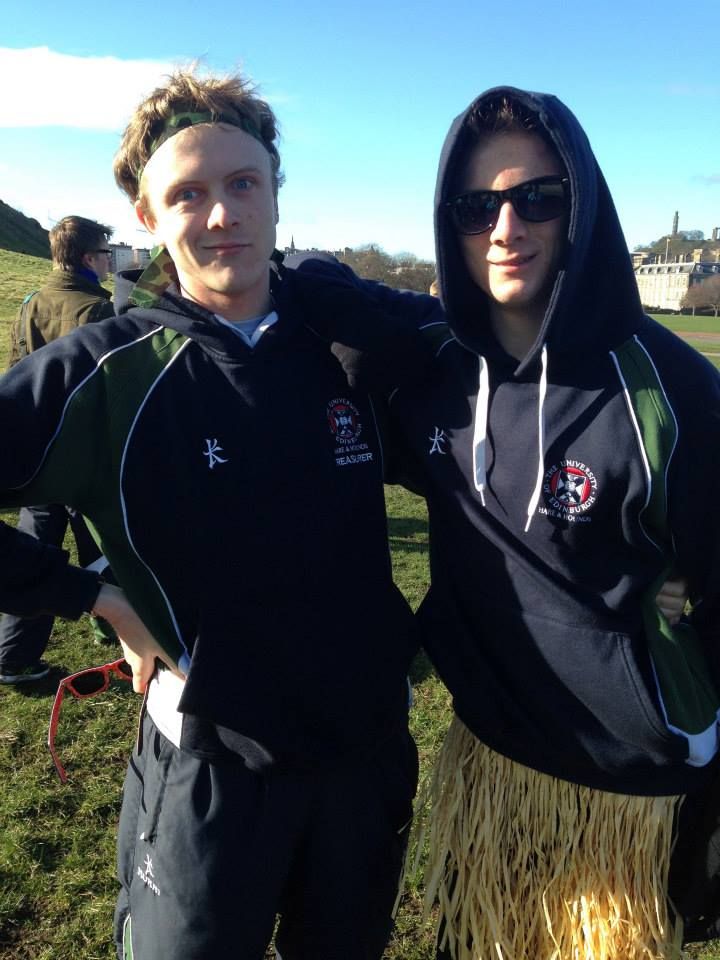 Our Kukri kit keeps us warm before and after races. Grass skirt: Model's own
They produce a range of club branded training and leisurewear for us, including tracksuits, hoodies and running shorts. All their items can be ordered through an online store via this link. We recommend ordering a hoodie as they help us look good as a team when we go to races together. It also lets non-runners know you're better than them if you wear it around campus. There is a delivery charge for orders under £50, so you should try and find someone to pair up orders with if you'd like to avoid this (it's unfortunately out of our hands). It does mean you'll get your kit delivered directly to your door though! Please note: the shorts currently listed on the website are not running specific, and are longer, more generic workout shorts. Proper, shorter, running shorts will be available soon, we hope!
I <3 Haries

These t-shirts can help you redeem some of your dignity, in even the most dire of situations
For the bants we have I <3 Haries t-shirts show your Harie devotion everywhere, but hopefully in a classier way than Neil displays above.
Running buffs
This year sees the return of Club buffs, with a brand new design by Mook! They are very green, with an awesome Hare and Hounds design printed on them (pictures coming soon). Talk to Mook for more details - we have now sold out but will order more if there is enough demand
Anything Else?
If you need shoes or other running kit, we recommend you take a wander (or a bus) down to our race sponsor, Run and Become, on Queensferry Street, near the West end of Princes Street. They've got a cracking selection and will help you choose what you want or need. Your Haries membership will also get you a discount!
You should also check out Go Outdoors, our other sponsor, who stock a wide range of equipment and clothes for running and many other sports besides.